Valuation vs. Insurance
The primary difference between moving insurance and valuation is that moving insurance covers acts of God.
Valuation can be purchased through a mover or an insurance company. Insurance must be purchased directly from an insurance carrier.
Valuation has minimum coverage levels required by law, where insurance does not.
'Moving Insurance' and 'Moving Valuation' coverages are very similar.
Both valuation and insurance may have deductibles.
Both coverages provide you with customizable levels of value, etc..
Both coverages have an upfront cost between 1% and 5% of the value declared.
Valuation
Movers in the State of Florida are required to guarantee all customers goods at a minimum rate of .60 cents per pound, or $6,000 per shipment at zero cost to the consumer. This is true in most States across the United States of America. This is referred to as minimum valuation coverage.
Moving America offers an increased valuation option called "Full Replacement Valuation" for declared items and entire shipments.
Full Replacement Valuation coverage affords you true peace of mind. Expensive furniture items are guaranteed at the value declared before your move. Items are inspected prior to loading and after unloading.
Upon the event of a claim, you must be able to justify and prove the actual real-world replacement cost of your goods.
What happens if an item is damaged during the move?
There are 3 primary methods of recourse in the event of a claim with a moving company.
An item is repaired, after inspection, by the mover.
An item is replaced, which usually does not include pairs or sets.
You are compensated a cash value for your damaged item.
Movers should always make a good faith attempt to repair or replace an item before paying out any claims. If an item cannot be repaired or replaced the claim amount will depend on the level of valuation you purchased before your move, less any deductibles.
At Moving America, we are dedicated to provide a flawless moving experience, staking a claim rate of 0.3%. Our claim rate is 30 times lower than the industry average of 10%.
3rd Party Insurance
If valuation products are not enough to cover your goods, then full replacement cost insurance can be purchased from a third party insurance provider.
All movers in the State of Florida are bound by the same agreement. There are no deals, free or different kinds of moving insurance.
Movers are not allowed to sell insurance in the State of Florida.
Your home owner's or renters policy may cover your goods during a move. Always ask your agent if you have a policy that covers this ahead of time.
How do you fully insure your goods during a move?
There are several companies who offer moving insurance products.
Moving America is registered as a licensed mover with Baker International. You can purchase full replacement cost insurance from them if you decide their product is necessary for your move.
Below is an example of a recent quote.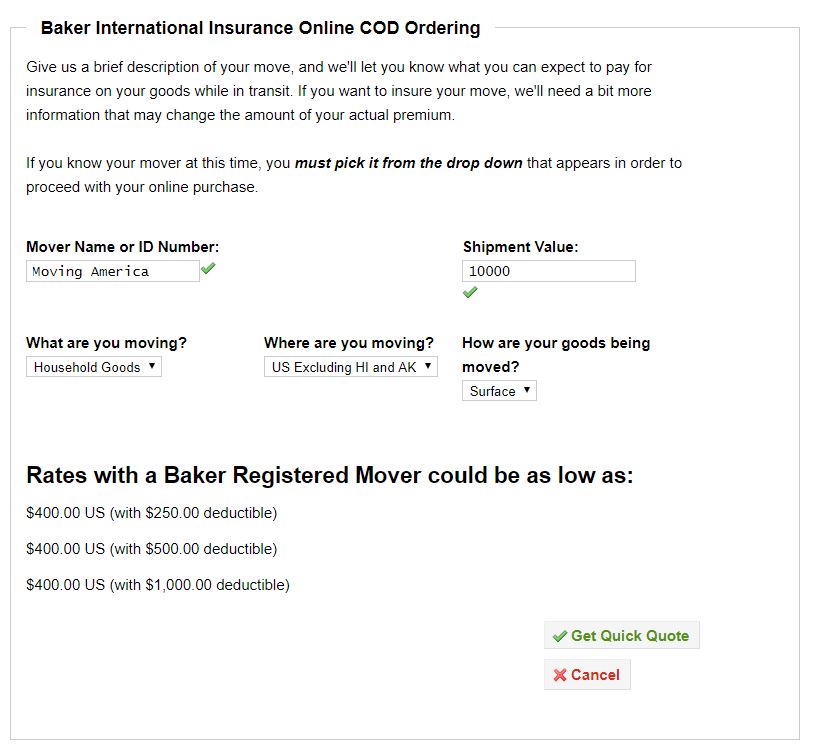 You can also inquire with your home owner's or renter's insurance provider for any options they may be able to afford you.
Happy Moving!