Moving America headquarters is located in Lake City, Florida. We are your local Lake City movers. Moving America is the most trusted moving and storage company in Lake City, FL offering professional relocation and moving services state and nationwide.
We provide all professional moving, packing and storage services to surrounding areas, including Lake City, Live Oak, Branford, White Springs, Ft. White, Jasper, McAlpin, Sanderson, Macclenny, Wellborn, Glen St. Mary, Five Points, O'Brien and LuLu.
Full-Service Moving
Our Lake City movers offer full-service professional moving. Our team specializes in moving homes, apartments, condos and more. Moving America Lake City is the best choice in town for relocation. We have several local moving trucks and professional local movers available.
Professional Packing
Moving America Lake City offers professional packing services. Our team of Lake City movers are trained to securely package all types of household and commercial goods. The most common packing requests are clothing, electronics, fine art, dishware, and other common household items that need extra protection during transport.  All of our Lake City movers are trained to provide professional packing when requested.  All of your goods will be 100% insured at the level of coverage you purchase when you hire Moving America Lake City for your packing needs.
Storage
Moving America Lake City offers all types of storage solutions.  We have the largest network of storage facilities and storage partners in North, FL. We can schedule several storage options for you, including, climate-controlled, overnight, dry, mobile, storage in transit and more. If you need storage for the short term or long term, our agents will outline the most appropriate storage solutions for you.


Moving to or from Lake City, Florida
There are 500 – 1,000 people moving to the Columbia County area each year.
With a current population of 69,612 in Columbia County there will be about 7,000 moves each year and around 1,400 people will need to hire a mover (based on most recent statistics).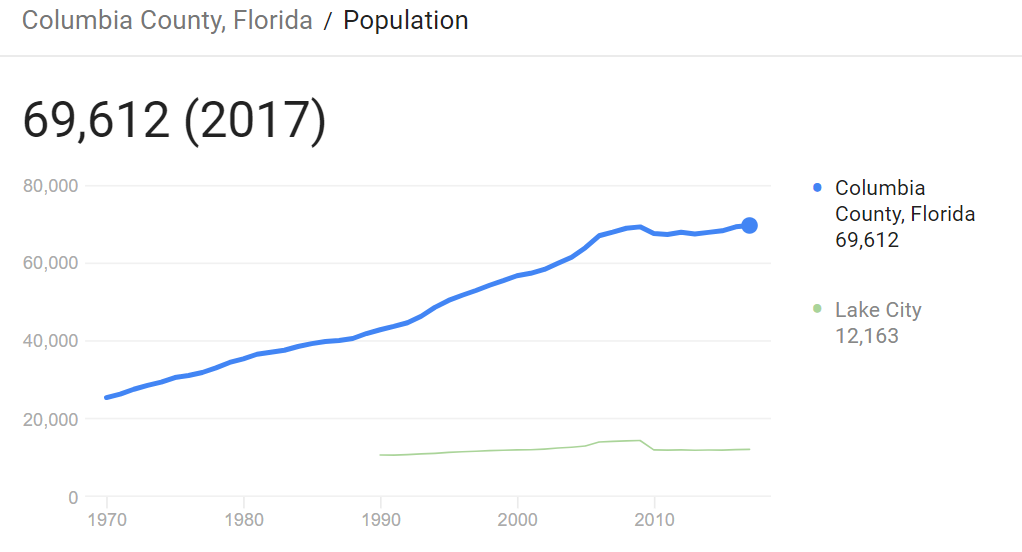 List of all Movers in Lake City, Florida
Currently, there are only three licensed and insured movers in Lake City, FL. Many other companies serve the area from larger cities but charge travel time to Lake City locations.
List of all currently licensed and insured movers in Columbia County, FL.
List of all Storage Facilities in Lake City, FL
There are a total of 18 storage facilities located in and near the Lake City, FL area. There are also on-site and mobile storage options available.
Learn more
.